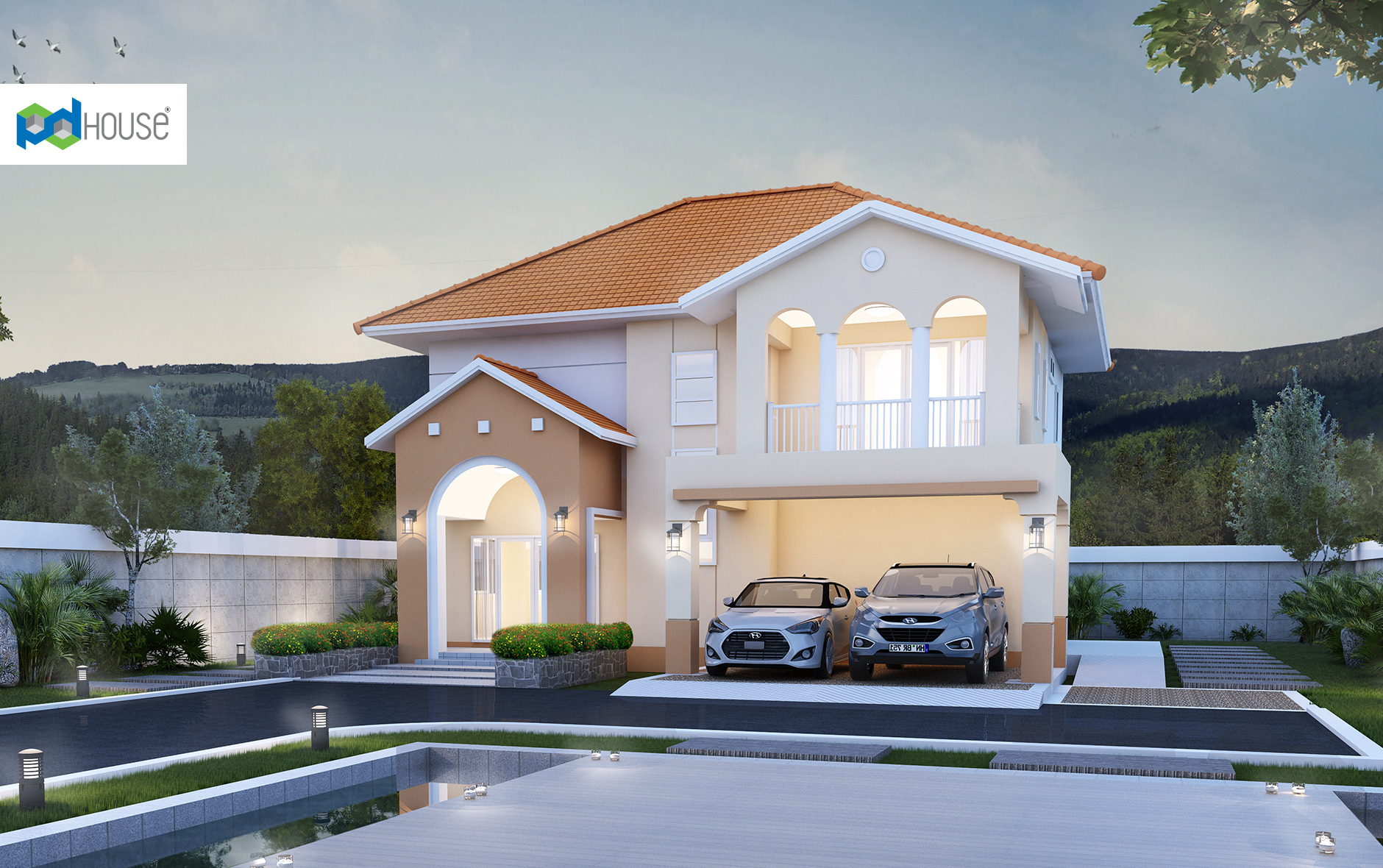 House Design Plans 15×19 with 4 Bedrooms. EARTH HOME SERIES Tropical StyleLine EA-131.
2-story house, 4 bedrooms, 3 bathrooms, Parking for 2 cars, Usable area 234 square meters, Land area 72 Square Wah. 15.50 meters wide, 19 meters long, Floor plan 1, Floor plan 2, EA-129 EA-132
House Design Ground Floor Plans Has:
Firstly the Parking is front right side of the house available to park 2 car. Terrace entrance size is 3.00 x 3.40 meters. The left site of the house is a very nice modern living area size is 4.20 x 3.60 Meters. After the living room area is a Dinning area 4.20 x 3.60 meters that supported 6 people in the family. The stair is in the middle front of the house. Guest Bathroom is in front of the stair 3.00 x 1.80 Meters. The big wide foyer is in the center of the house 2.70 x 1.60 meters.
Pentry Area size is 2.70 x 1.80 meters. Kitchen is next to the bathroom it has the size a bout 4.00 x 2.70 Meters. The most important of this house to avoid the smell when we are cooking is having an extra Out door to the washing area 4.00 x 1.50 meters. A Bedroom 4 size is 3.60 x 4.20 meters behind the parking, this room also connect to the terrace 2.00 x 3.50 meters.
First Floor Plans Has:
There are 3 Bedrooms with two Bathrooms, Bathroom 1 size 2.10 x 2.50 meters, Bathroom 2 size 1.90 x 3.00 meters,  in this floor plan. Master Bedroom 1 size is 3.60 x 4.20 meters, it is included with big closet and makeup area, also attached with bathroom and balcony 4.20 x 1.60 Meters in front of the house. The Bedroom 2 size is 3.60 x 4.20 meters and Bedroom 3 size 3.00 x 4.20 meters each bedroom no bathroom but it include a big closet. Finally is the big foyer which the big space to connecting to all the room in first floor. Extra Roof to cover the entrance door.
The Roof Tile:
The hip roof type is Cement tiles with color Goldenrod. It is make the house look simple and modern with the big entrance glass door and big window in the first floor.
Exterior House Design Plans 15×19:
Similarly to the roof color we choose a bite dark and light color of goldenrod combination together with white frame window to get the house look so beautiful and love the house.
Check other House plans:
House Design Plot 13 x 14 with 4 Bedrooms
House Design Plans 15×19 with 4 Bedrooms. Credit to www.pd.co.th