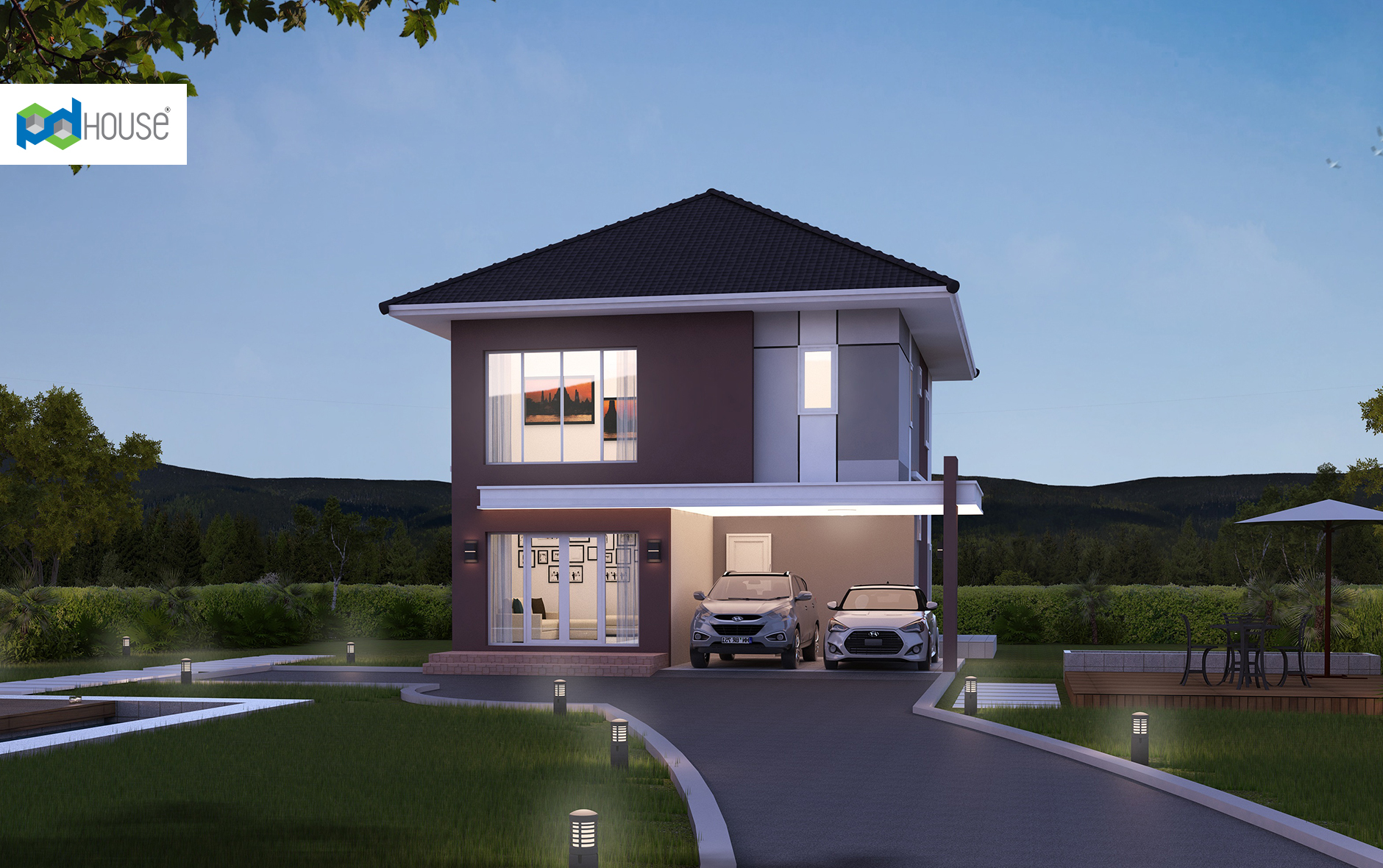 Small House Design Plot 13 x 14 with 4 Bedrooms. EARTH HOME SERIES Tropical Style EA-118 2-story house. The house has 4 bedrooms with 2 bathrooms,Parking for 2 cars. Usable area 160 square meters, Land area 45 Square Wah, 14 meters wide and 13 meters long.
Small House Design Ground Floor Plans Has:
Firstly the Parking is front left side of the house available to park 2 cars. Terrace entrance size is 1.20 x 4.00 meters. The right site of the house is a very nice modern living area size is 3.50 x 4.00 Meters. After the living rooms is a stair go up to the first floor plan. In front of the stair is a Foyer and A Guest Bathroom that is pretty big for used, size 2.70 x 1.90 meters. After that bathroom is a Dinning table with Kitchen area, size is 3.40 x 3.90 meters. Bedroom 4 size 3.30 x 4.00 meters is behind the stair. Secondly we have a small terrace back of the house 1.10 x 4.20 meters.
First Floor Plans Has:
There are 3 Bedrooms and One Bathroom size 2.70 x 1.90 meters in this floor. Bedroom 1 and Bedroom 2 are the same size 3.40 x 2.90 Meters with have 2 windows that have got enough light and win go through. Bedroom 3 size is 3.50 x 3.90 meters also has 2 window.
The Roof Tile:
The hip roof type is Cement tiles with a dark color of Purple. It is make the house look simple and modern with the big entrance glass door and big window in the first floor.
Exterior house design:
Similarly to the roof color we choose a bite lighter purple and white color combination together with white frame window to get the house look so beautiful and love the house.
Check other House plans:
House Design Plans 11 x 9.5 with 3 Bedrooms
Small House Design Plot 13 x 14 with 4 Bedrooms. Credit to www.pd.co.th